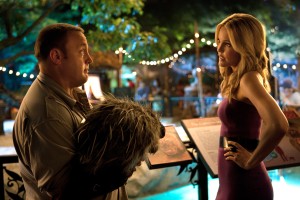 Without Kevin James, Zookeeper would be just another run of the mill comedy. I have no idea what it is about his "je ne sai quai" quality but something there, there. Maybe it's his everyday, pliable face or his comedic, slapstick nature but whatever it is, it perfectly suits him for the lead character in Zookeeper.
Synopsis: In Zookeeper, the animals at the Franklin Park Zoo love their kindhearted caretaker, Griffin Keyes (Kevin James). Finding himself more comfortable with a lion than a lady, Griffin decides the only way to get a girl in his life is to leave the zoo and find a more glamorous job.  The animals, in a panic, decide to break their time-honored code of silence and reveal their biggest secret: they can talk!  To keep Griffin from leaving, they decide to teach him the rules of courtship – animal style.  The film also stars Rosario Dawson and Leslie Bibb and features the voices of Cher, Nick Nolte, Adam Sandler, and Sylvester Stallone.
Zookeeper Review
To say that I liked Zookeeper is an understatement. I thought  the movie was hilarious without being crude or obnoxious. As Kevin James stated at a recent press conference, the screenwriters and he wanted a movie that could be watched by anyone between the ages of 6 to 60 and it does. At the screening of the movie, both adults and kids were laughing hysterically at many of the scenes.
Kevin James, of course, is the reason you go to see this movie. Without him, the movie just falls flat. From the opening scene when he gets his heartbroken, to the last chase scene, you are along for the ride, hoping he gets the girl (which girl, you will have to see the movie to see.)
The movie includes a cast of talking animals voiced by everyone from Cher to Sly Stallone to Nick Nolte.  Not all talking animal movies work or is just plain a tired cliche  but this one does, even the crazy bromance scenes between Griffin Keyes (Kevin James) and the gorilla are hilarious.
The movie is filled with plenty of slapstick scenes that will really have you laughing out loud and to say, your kids will be laughing along with you is assured.  The fact that the talking animals give the Zookeeper love advice on how to get his girl back and how it plays is out is  just plain funny.  The little monkey is a crowd favorite and fun fact, the monkey is holding onto fake thumbs throughout the movie. You will know what I mean when you see the movie.
I liked the movies underlying themes; that you should be yourself and impressing someone doing it will not make you happy and be passionate in all you do.
And finally, I have to mention the soundtrack which includes such classics like Barry White's "You're the First, the Last, My Everything, " Earth, Wind and Fire's "Boogie Wonderland,"   Boston's "More Than a Feeling,"  and other fun hits.
I only have two bugaboos about this movie.There are two "hells' mentioned which I am not sure why they had to be included since this is supposed to a family friendly movie but as another reviewer said, some people may not view "hell"  as a curse word. Our family does and my daughter caught both of them the minute she heard them.  I will only say this as a matter of course since this is Hollywood and no knock on Kevin James but in what world does a lowly paid, yet passionate Zookeeper attract two hot babes like Rosario Dawson and Leslie Bibb.
Recommendation: I definitely recommend this movie for 7 and up. It will have you laughing and there aren't that many movies that make me laugh out loud.  Will your kids like? YES!!!. My daughter can't help talking about it and can quote a lot from the movie. We are planning to see it again.